There are too many celebrities who always try to dress in a way that will make them look hot sexy and best before the cameras; others choose to dress to astonish and even shock. And here's the thing, there's a time and a place for everything. Sometimes it's ok for celebs to dress in a very provocative way; after all, they're there to be noticed. However, some of the outfits might have us, as the audience, in complete shock and even outrage. The shocking outfits range from 'a bit over the top' to 'holy molly what were they thinking'. There is a big list of celebrities who did this on special occasion like awards program as well as red carpet of any award show.
Rihanna
Rihanna got a great body and it should be seen.  She is very popular to showing off her figure and fans love her for that. At the CFDA fashion awards in 2014 Rihanna was pretty much naked. The pink sparkly dress was completely seen through. The only thing she had to cover up the strategic bits was her fluffy pink boa, but it didn't really help.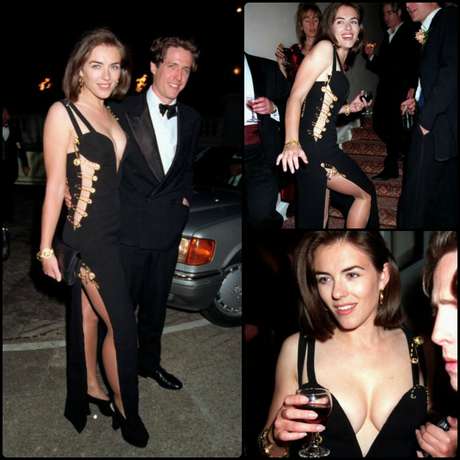 Elizabeth Hurley
At the Funeral Premiere in 1994 Elizabeth Hurley wired a dress which anyone seen once he/she will never look twice at this dress. It shows a lot of cleavage and yes, it has cutouts on the sides. These days it's not something we'd consider shocking. We see celebs show up to events almost naked. But back in 1994 this dress created a lot of controversy and was discussed for days on end, for being so provocative and shocking.
Micaela Schäfer
Micaela Schäfer wore a dress in 2012 for Men in Black Premiere. It's really hard to call this is a dress, since it's barely there. If anyone see this dress leaves nothing to imagination. It looks like it's made of old cassette tapes and a belt. However this is actually one of her modest outfits.
Jennifer Lopez
Jennifer Lopez showed up for Grammy's wearing essentially beachwear. It was a bold move for sure. The dress, if we can call it that, showed off not only Jennifer cleavage, but also her midriff in one great swoop. It looked like Jennifer might've been lounging next to her pool and suddenly remembered that she's late for Grammy's.
Miley Cyrus
Miley Cyrus wired a weird dress at the VMAs program.  When did the adorable Hannah Montana grow up so fast and become the scandalous Miley Cyrus? It was rather jarring at first, when she cut her hair and started dressing all crazy. Nowadays we all are just used to her crazy outfits — it's what Miley does best.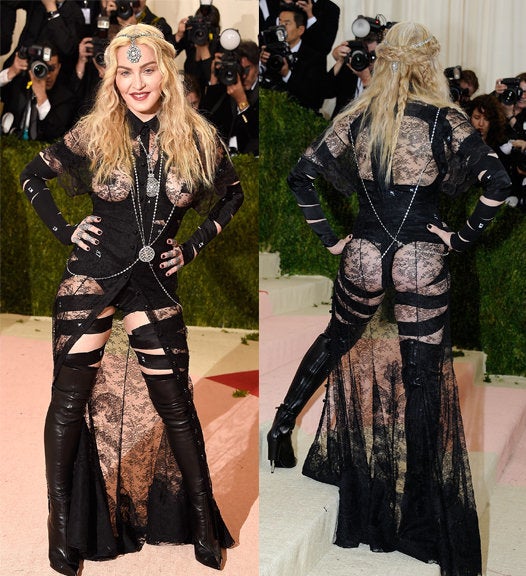 Madonna
Madonna almost shows her boobs nipple by her dress at the Met Gala 2016. Madonna knows how to shock the public and keep herself interesting throughout her career. She was always inventive and no stranger to pointy bras and sexy outfits. She's all about confidence and sex appeal. But do you ever think that perhaps at the age of 57 it's probably about time to stop showing off her boobs and buttcheeks in such an obvious way!
Lady Gaga
Lady Gaga is the queen of crazy outfits. She definitely knows how to make a statement. She surprised everyone by her unique dress in the MTV show 2010. Try wearing a dress made out of raw meat. Not only that, but also complete the outfit with a stake for a hat and shoes made out of meat.
Irina Shayk
Irina Shayk dressed in Oskar party 2015 was most shocking red carpet looks. Irina had quite the moral dilemma when deciding whether she should wear flesh colored underwear or not wear it at all? In the end, as you can see she decided to go commando. It makes you feel like you've got a secret. I wonder if it feels the same when everyone knows your secret.